The team at Probuilt Models have put a lot of time and attention into creating a show piece model for you – and why not? You deserve the best!
Since we service world-wide customers, our packing methods MUST be as battle hardened as the planes, vehicles and personnel we create in order for them to complete their mission – to arrive safely to you!
Our Export Packing Goal.Our packing method for each type of model has been designed to ensure that all gravitational and impact considerations have been considered. Gravitational you ask? We mean that the model has been secured to withstand up, down and side to side movement as well as bump protection. Our packing method has a 99% assurance that your model will arrive in one piece. We can only control how well we handle the model on our end, although we cannot control how the post office handles them. However, if you take a look at our eBay customer feedback, you will see a lot of feedback from customers who can attest that our models arrive in show case condition regardless of the transportation phase.
Our satisfaction commitment.In the event that there is a blemish to your model due to transport, we will be happy to instruct you on repair of that piece. But don't fret! Again, breakage is a minor possibility, and you will see from the series of packing steps below, your model is professionally packed and has an extremely high chance of arriving as you would expect – ready to display!
Export Packaging Procedure Demonstration
The following process explains how we pack figures. Although we are not showing how we pack vehicles, planes, dioramas etc. rest assured that those methods are just as meticulous.
These photos were taken of a USA customer's 1/9th scale model of a German SS Waffens Machine Gunner in Andrene 1944. And YES! it arrived safe and sound to the customer's door.
Here is the completed figure shouting to the world that Probuilt is Number 1! and ready to be deployed to his shipping process.


1)      We start off by hand carving out a block of Styrofoam to fit each loose piece and the main figure. We then pad with foam to help to safely restrict movement.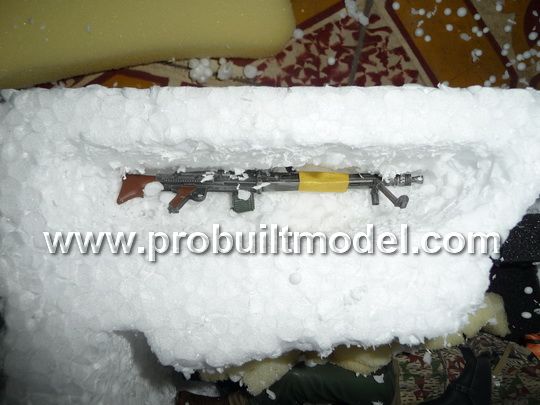 2)      Once the figure and loose items are securely in place, we use styro balls to ensure there is limited movement of the figure and loose parts.

3)      Here is our war hero well covered in an avalanche of styro balls. Don't worry, no models were harmed in the making of this process ;-).

4)      To secure the styro balls in place, we cover the entire Styrofoam block with tape. This will add the right amount of pressure to keep the model in place without adding too much pressure which could damage the figure. This process ensures that side to side, up and down movement of the figure has been minimized.
5)      Next, for bump protection, the figure is placed in a secondary Styrofoam housing. The Secondary Styrofoam housing is also securely taped and labelling is applied.

 Your model is now safely packed and ready to arrive in one piece to your door J
See more
 If you have any other questions about our packing method, feel free to drop us a line at probuiltmodel@gmail.com.
Thanks for your time and attention to our process.
The Probuilt Team